Buy or Lease a New Genesis GV70 in Baton Rouge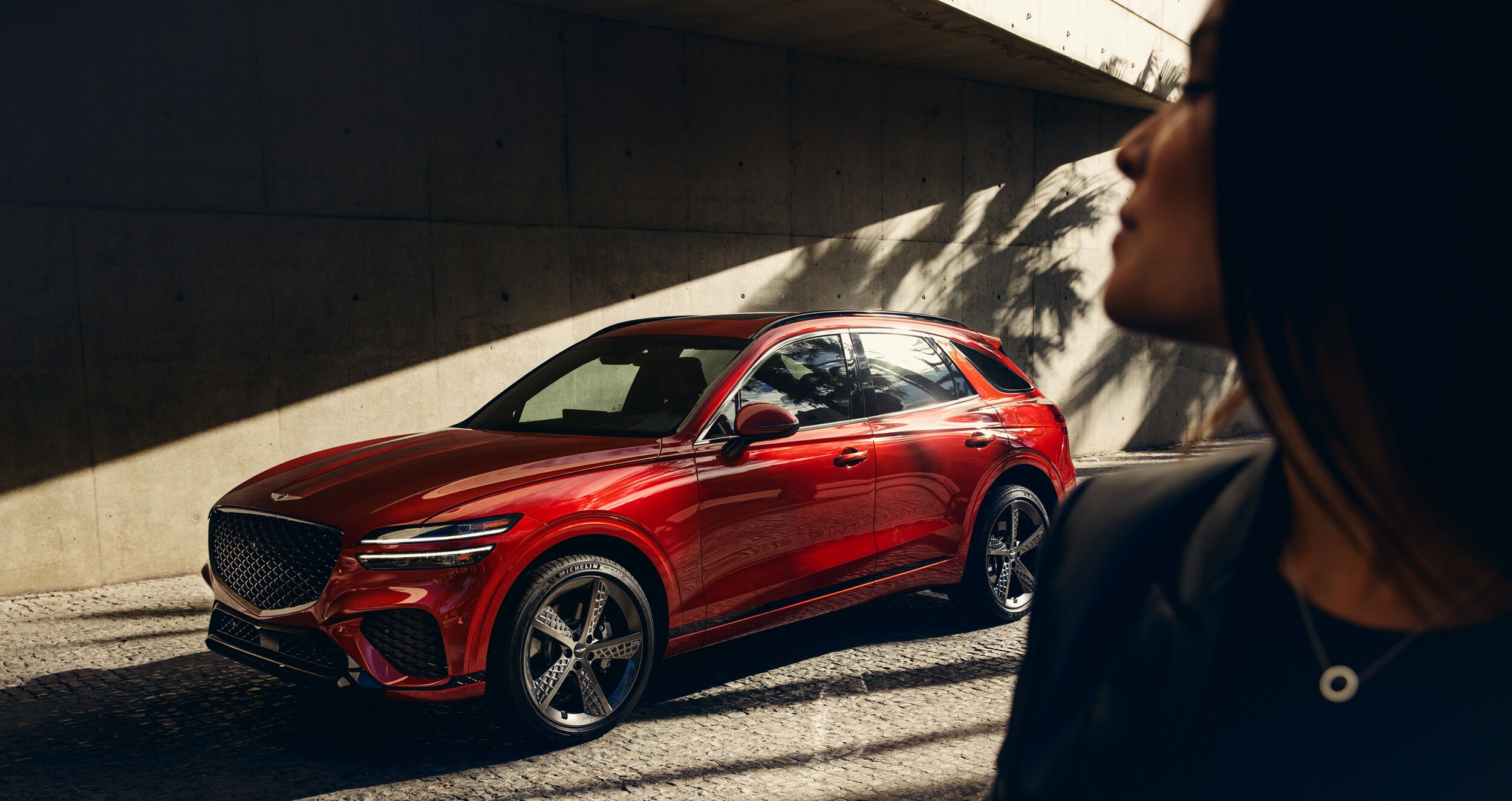 New Genesis GV70 for Sale in Baton Rouge
Standard SUVs are acceptable for some buyers, but other consumers prefer to enjoy the finer things in life. The Genesis GV70 SUV is ideal for those who enjoy a luxury look with a dynamic driving experience. This luxury mid-size SUV uses its sophisticated design to garner attention and promote aerodynamic travel. In fact, many features of the new Genesis GV70 are multi-purposeful in a way that improves efficiency and catches the eye. These pairings are what make the new Genesis GV70 so intriguing and desirable to buyers near Denham Springs.
What's New for the 2023 Genesis GV70?
The new Genesis GV70 steals the show with its new 2023 model that stands out against its luxury compact SUV rivals around Gonzales. All-wheel drive is standard in the 2023 Genesis GV70, a plush interior steals the show on the inside, and generous standard equipment inclusions are highlights of this SUV's newest release. Also, a Digital Key that allows remote start from a cellular device and Remote Smart Parking, a self-parking feature, benefit this new model's popularity. Additionally, a 3D Digital Gauge Cluster is an innovative feature this luxury SUV incorporates into its 2023 model.
Design
Luxury From the Outside In
The exterior design of the new Genesis GV70 is the epitome of sporty luxury and elegance. As an urban SUV with premium qualities, the Genesis GV70 boasts power-folding mirrors on each driver's door adorned with a logo stamp and sleek, 19-inch alloy wheels. On the inside, an open cabin concept complete with a panoramic moonroof steals the show. This design concept appears complemented well by aluminum trim throughout, ventilated seats, and a premium audio system.
Enhanced Performance
Are you looking for a model that can satisfy your urge for urban driving and off-road travel? The Genesis GV70 has a dual personality that makes travel in any environment easy and natural. An Electronic-Limited Slip Differential plays a big role in this SUV's ability to distribute power and force across wheels as the terrain dictates. In cases where too much force gets placed on one wheel and causes slippage or sudden turning, this system re-aligns the power distribution for automatic correction.
The new Genesis GV70 also employs the use of a Terrain Mode to customize your driving experience around Prairieville. Whether you are driving on sand, snow, or mud, you can govern how the Genesis GV70 handles based on the terrain selection you input. In doing so, the engine, transmission, and brakes react accordingly to promote stability and responsiveness in the given situation.
In this SUV, you'll find a choice between two engines. The standard Genesis GV70 will come equipped with a 2.5-liter four-cylinder that produces up to 300 horsepower. An upgrade to a 3.5-liter twin-turbocharged V6 will put out up to 375 horsepower. Depending on the engine selection, the new Genesis GV70 can put out between 311 to 391 pound-feet of torque.
Safety Features
With this car, the automaker provides high-quality Safety intelligence tech to keep all the Genesis inhabitants safe. Some safety features include audible and visual alerts that notify you of any impending danger like vibration warnings of the steering wheel, multi-collision brake systems, rear guide lamps, and more.
In addition, active support in the highways is provided by the blind spot, which adjusts the steering to take you back to your lane. From the infotainment display, you are also able to view the whole car environment using 360-degree cameras. These ensure you have confidence parking in any tight spot and assure you of car safety.
Cloud-based information is another technology amenity used in the new GV70. No matter where you are, this enables you to access real-time traffic. Intelligent Speed Limit Assist helps the vehicle remains at the designated speed limit by automatically reducing excessive speed.
Test Drive A New GV70 In Baton Rouge
Contact our sales team for a test drive or to learn more about the Genesis GV70.